October 5th | 4PM - 7PM
Chamber Ribbon Cutting @ 4:30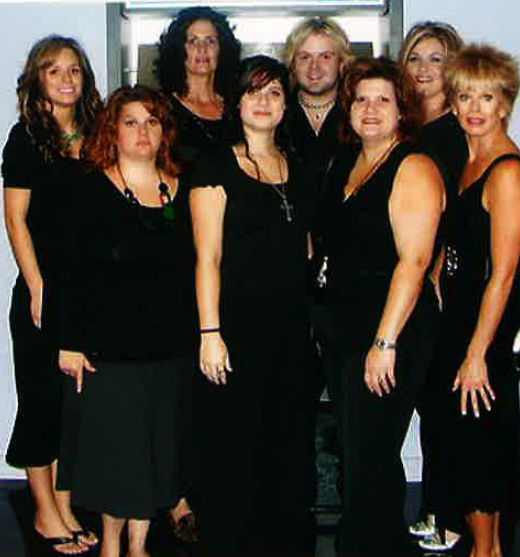 YOU'RE INVITED to come and celebrate with Champagne and Chocolate!
Local Business Celebrates 25 Years by bringing a whole new look to their Salon and Spa in downtown Heath! Growing with the Community has come natural for Award Winning Heath Hair Salon and Spa.
Starting with a deal she couldn't refuse, Jauna French purchased Heath Hair Company in 1993 from Judy Kile, who had owned it for 9 years and had different dreams. Curtis and Jauna French then began their journey of Salon ownership. At the time it seemed crazy because they had only lived in the area for a year and had a one year old son, who was the reason to go for it! 950 sq. ft. with two pink shampoo bowls, two salon chairs, a manicure table and the signature 90's country blue and mauve décor…Heath Hair Co. was the French's future. The desire to work with a team and train each of the team to Redken Elite and Pureology Standard was the goal. Customer Service and Salon Professionalism was and is still the Standard.
Jauna French, Hairstylist and Redken Performing Artist, coming to Texas from Oklahoma had enjoyed teaching other stylists for 8 years. Knowing that the dream included the best of the best artists working together with the goal of expertise in services, commitment of the company to team and growth for the career minded, learning how to manage and grow a company located out in the middle of nowhere became the Mission. Having the support of Redken to provide the best products and education in the industry, she knew it was possible. The Mission became even more of a reality when the French's welcomed their second son in 1996 and Jauna chose to not travel and educate for Redken and concentrated on her business and raising her young family.
Many educational events later, learning with the intent of growing the team one service provider at a time, and many DYI projects later, in 2000, Heath Hair Co. expanded to 3000 sq.ft. and became Heath Hair and Day Spa. A totally new 8 chair, 3 shampoo bowls, private manicure and pedicure area, private styling area, 2 Spa rooms for massage and facial services and expanded gift shop in the Heart of Heath, TX. Enough room to continue growing service experts in hair, skin and nails…the dream was coming true. Heath Hair and Day Spa has been recognized in D Magazine as a Best in Rockwall Co., Salon Today Magazine as one of the Fastest Growing Salons in the US, Best of Rockwall Co.Lakeside Living and Redken as a Redken Elite Salon. This salon and spa's commitment to the community has not gone unrecognized. Raising money and donating to local charities is just part of the culture. 10s of thousands have been raised by this tribe of Beauty Industry service providers and continues to be their passion and challenge to others to always find ways to 'give back'.
Continued growth of Heath Hair and Day Spa in both Team members and guests led to the next expansion in 2008 to 4500 sq. ft. Being a Redken Elite Salon brought opportunities that included sending NYC Designer, Peter Millard, to Heath. A total gut remodel produced 16 chairs with 4 shampoo bowls, 3 spa rooms and a private party/bridal area, became Heath Salon and Spa making its debut as the Premier Salon and Spa of Rockwall County. Surviving the economic crash of 2008-2010 was a struggle but the 'New' Heath Salon and Spa did more than survive, they grew! The past 10 years have been continued growth and support of the community and the original mission of growing one service provider at a time still continues.
This year, 2018 Heath Hair Salon and Spa is celebrating 25 years in business. As Rockwall Co. has grown and changed, the desire to change with the Community is apparent in this company!
A totally new renovation of inside and out with 28 chairs, 6 shampoo bowls and 3 spa rooms and a new, modern look has the town talking! When a community has been so supportive, you really want them to always have 'the best'! Celebrating 25 years later, Jauna French is so passionate about providing a high standard of service and technical skill that continues to get better every year.
The masters training program that the stylists at Heath Salon and Spa go through is the foundation of building Experts in Color, Cutting, Curl and Styling. They also have a Bridal Team that goes on site or in salon to give the very best in beautiful hair and makeup. The benefits of having a team is no matter what happens to a service provider, there will be an expert to take care of you. We have saved several brides from wedding day disaster when their hairstylist was sick or didn't show up. The skincare experts can resurface and improve your skin beyond your expectations and the massage therapist, Meredith offers gifted, healing hands, utilizing essential oils and body balancing.
It's truly 'all about you' at Heath Hair Salon and Spa.Expect the BEST!